White Chocolate Pralines and extra virgin olive oil RoZò with pistachios shells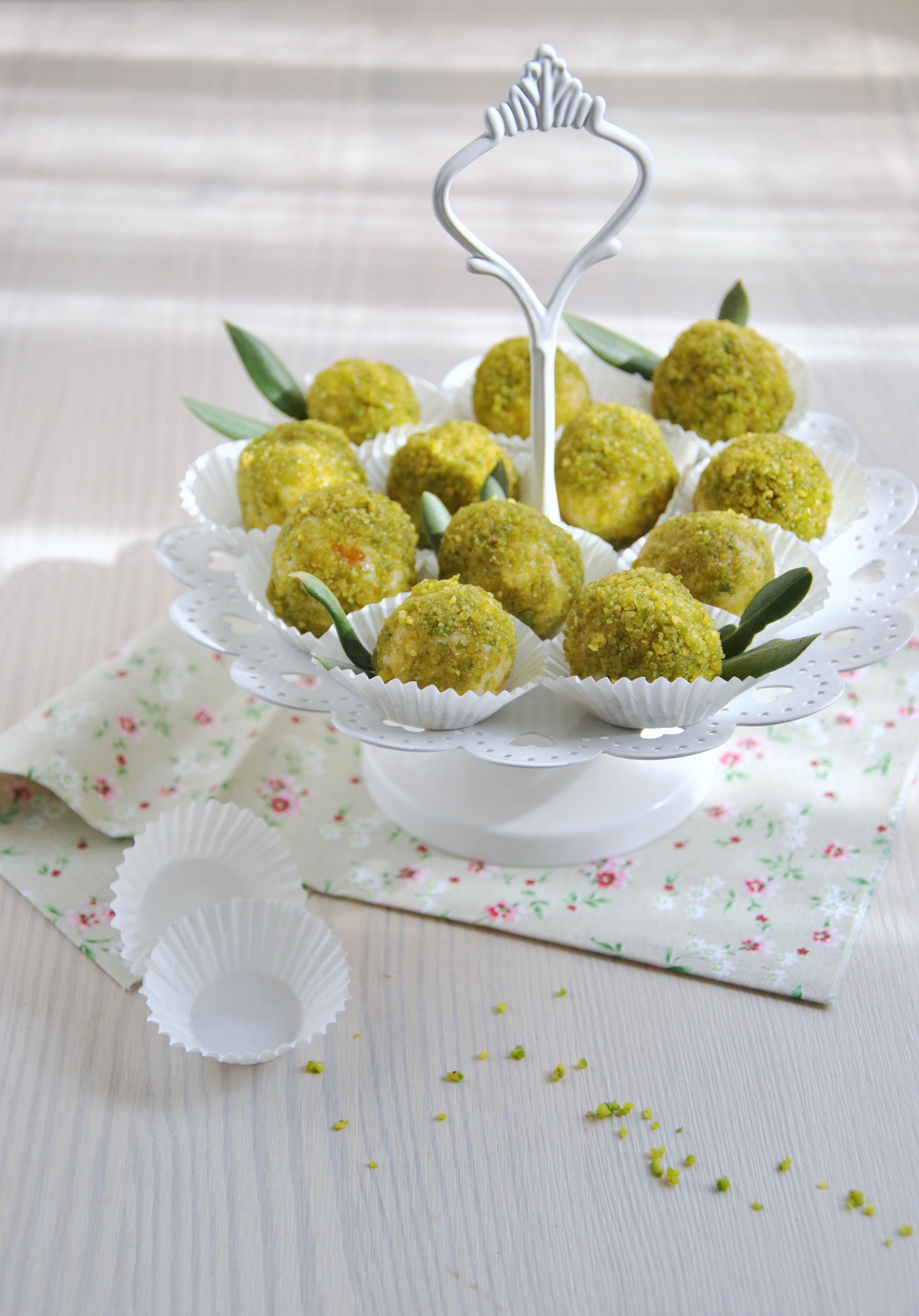 Yield: 8 servings
200 g of curabiè
50 g of almond flour
200 grams of white chocolate
50 g ricotta
20 g of extra virgin olive RoZò Parovel
80 g of candied orange peel
150 g of peeled and chopped pistachios
For curabiè :
45 g almonds peeled and chopped
140 grams of flour
110 g of butter
35 g of sugar
1/2 teaspoon pure vanilla essence
a pinch of salt
icing sugar
To serve paper cups
On a work surface, knead quickly chopped almonds with the flour, the butter into cubes and a pinch of salt. Create a smooth and homogeneous mixture and give it the shape of a cylinder, wrap it in plastic wrap and store in the freezer for about half an hour. After the rest, cut the logs of dough and shape crescents you will place on a baking sheet covered with parchment paper. Bake the cookies for about 15 minutes at 170 ° C and when the biscuits are cooked, but not too colorful, take them out the oven and let cool on a rack. Pass them while slightly warm in powdered sugar. Put in a blender the cookies with almond flour and orange peel until mixture is fine. Melt the white chocolate in a double boiler and when it is melted, remove from heat and add the oil gradually trying to get a smooth and homogeneous mass. Mix the chocolate biscuits and let cool in the freezer for about 20-30 minutes. Using a spoon, take parts of the mass and form 32 small balls, which you will pass in the chopped pistachios. Store the cookies in paper cups and store in the refrigerator, covered.
Author of the recipe: SABRINA LORENZI
Sabrina was born in Trieste «the city where I still live together with my family: a husband, a 7-year-old daughter and the loyal dog Tobia. In the past I worked into marketing research field, a job I left for taking care of my family properties, amidst which there was a cinema that I ran together with my father until 2005. I love cooking, getting in touch with nature and travelling whenever I can. To find out about my recipes go to colazionialetto.com»
The extra virgin olive oil chosen for this recipe was selected upon the ingredients to enhance the food taste at its best, read here its profile here.
The wine that we suggest you pair the recipe with is Spomin