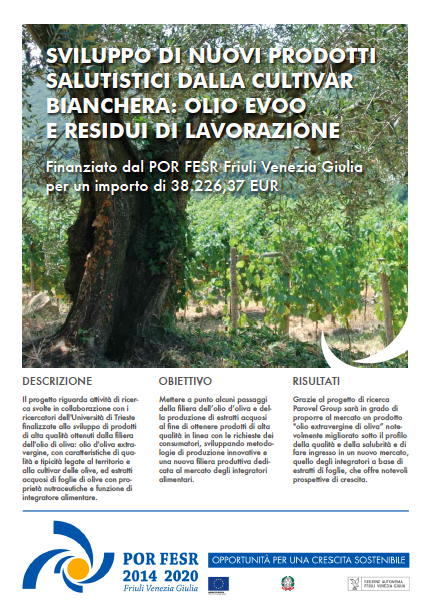 Funded by the POR FESR Friuli Venezia Giulia
The project concerns research activities carried out in collaboration with researchers of the University of Trieste aimed at developing high quality products obtained from the olive oil supply chain: extra virgin olive oil with qualities and typical characteristics linked to the territory and to the cultivar of olives and aqueous extracts of olive leaves with nutraceutical properties and as a food supplement.
Developing some steps in the olive oil production chain and the production of aqueous extracts in order to obtain high quality products in line with consumer demands, developing innovative production methods and a new production chain dedicated to the market of supplement food.
Thanks to the research project, with the eligible expenditure of € 71.670, Parovel Group will be able to offer the market an "extra virgin olive oil" product that has improved considerably in terms of quality and health and to enter a new market field, that of supplements based on leaf extracts, which offers significant growth prospects.