Blog / 21 November 2014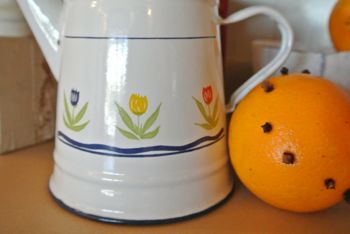 Not many years ago this type of coffeepot was in use in most households.
We cooked the coffee in the evening and it was left to settle for the morning. Some kind of very tasty long coffee that mixed roasted chicory, barley, and for those who had it a little coffee.
The orange that you see next to it was rather an easy way to scent your home. It was filled with cloves and its aroma spread around the house for a good two months during the winter.
In short, simple ways to get taste and perfume in the house.
And which good and simple Christmas present can you give ?
On our table in Zona Artigianale Dolina/Industrial Area Dolina in Trieste, we offer simple and genuine flavors and aromas to enrich your Christmas with your family or to share with those you love: extra virgin olive oils and wines from local grape varieties cultivated just a short walk from the Val Rosandra patè and our olives in addition to traditional cakes from the Karst.
Come and visit us!
From November 24 from Monday to Friday from 8 to 16 in Zona Artigianale Dolina/Industrial Area Dolina 564 in San Dorligo della Valle - Dolina, Trieste.
For info tel 040227050, mob. +39.346.7590953 or This email address is being protected from spambots. You need JavaScript enabled to view it.
Read More >